The Water Damage Remediation Plan in Colorado Springs That Wins Over Customers
7/3/2019 (Permalink)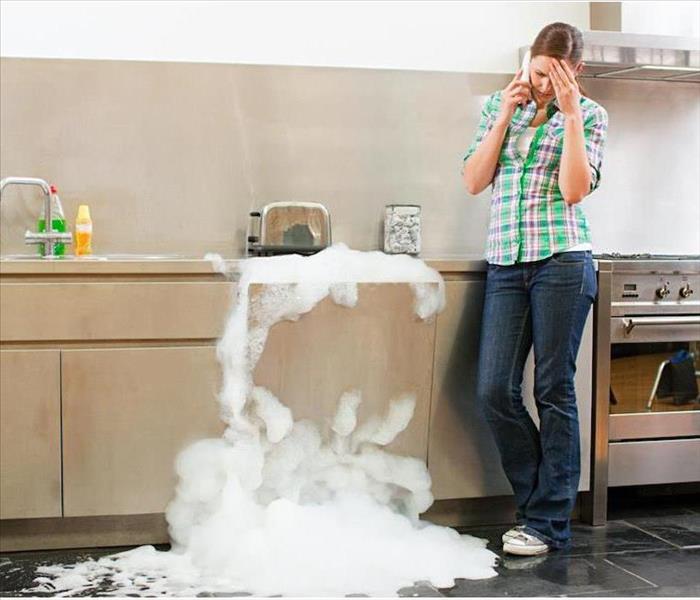 Overflowing appliances can cause serious water damage if left unattended. Contact the remediation specialists at SERVPRO today.
Water Damage Colorado Springs – Overflowing Toilet
When toilets leak, the leak may not be noticed until there is water everywhere. The first step is to always shut the water valve off located to the side or just behind the toilet. Once the water is turned off, the damage can at least be contained. Use towels or whatever you have to block the water from seeping behind the walls or out the doorway to other rooms.
Call SERVPRO for water damage in Colorado Springs for help. We can respond quickly and contain the damage from your leaking toilet. Water leaks should be considered an emergency due to the potential of extensive damage to flooring and walls. Our technicians initially inspect the area to assess the type of water and the extent of the damage. A planned response includes:
Mopping up any standing water that may have leaked onto the floor.
Verify the location of the leak and make necessary repairs before turning the valve on again
SERVPRO technicians can sanitize the area if needed
Remove excess water from carpeting and other porous surfaces
Evaluate whether content such as carpeting can be dried and restored. If not, it must be removed and replaced. The decision depends on the porosity of the material and whether the material can be dried in place. For example, it may be difficult to dry porous materials sufficiently to avoid warping of hardwood or the growth of mold
Since this situation involves clean water, affected non porous flooring can be dried and surface cleaned. It is important to act quickly. Even clean water can degrade and become a source of bacteria and viruses if left untreated.
Our technicians can also restore your home to its original condition by replacing carpeting and flooring as needed. We also work closely with your insurance company to provide all of the appropriate information needed to administer your insurance claim.
We are strategically located to respond quickly to your flood damaging event. Call SERVPRO of South Colorado Springs at (719) 574-2789 for 24/7 service. We also serve Widefield, Cimarron Hills and several more local communities in the area. We're Faster to Any Size Disaster in your area.
Click here to see more about Colorado Springs.