You Need Commercial Water Removal Services in Colorado Springs When There is a Burst Pipe at Your Tool and Die Shop
2/7/2017 (Permalink)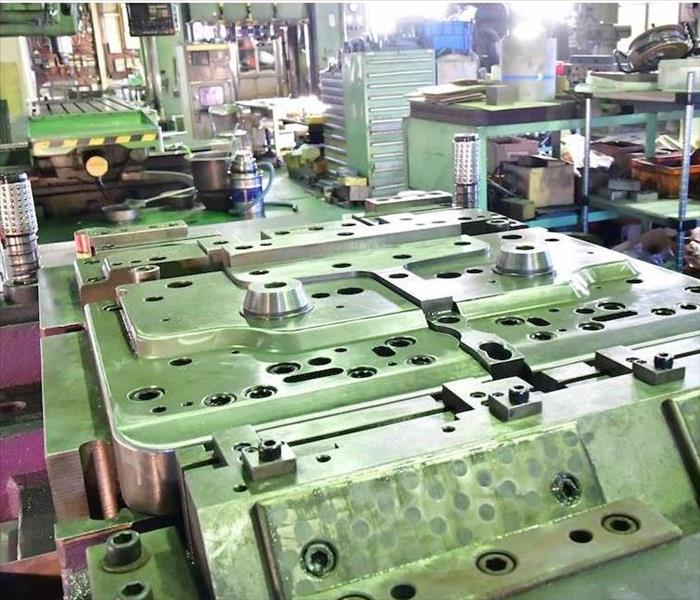 The tools at your machine shop need special care after a water damage event. Call SERVPRO for the best remediation results.
SERVPRO Prioritizes Your Equipment and Products During Water Damage Remediation
Tool and die and other machining shop owners take many precautions to protect the equipment involved in the making of their products. The computers used in auto-cad are also invaluable to businesses such as these. Many items made are customized specifically for different customers. Final products may take some time being produced to the specific amount requested, and this can lead to the storing of inventory. When there is a source of water leaking into your shop, you need to protect everything from possible damage, and you need to start protecting it immediately.

With commercial water removal services from SERVPRO, you can protect your shop's contents in Colorado Springs. We will not stop at just ridding your floors of excess water – we will also help with moving items to a dry location or applying protective oil to metal parts and pieces you have produced. Any computer equipment can be handled by one of our partners who specialize in electronics that have been damaged by smoke, fire, or water. We will wait for these more delicate, but essential, items to be removed from your location before we begin to bring your shop back to a dry state.

Our technicians know how to use the newest hygrometers to determine how wet a location is. Comparing undamaged areas in your shop to those that have been saturated with water will provide the data needed to determine how many air blowers, heaters, and dehumidifiers will be required for the size of your business. We will use these same devices later, throughout the course of the drying process, to determine if your business's interior is becoming drier as per our expectations.

Where we place the equipment used to dry walls, floors, and everything else, and also to dehumidify the air, depends on the floor plan of your shop. Other aspects include the height of ceilings and their type, location of stairwells, corridors and hallways, and cabinet space. We will always strive to place our equipment in locations that will not impede your continued use of your facility while we work. If you find equipment that has been placed where it will hinder your employees or your equipment, please inform us and we will remedy the situation for you as quickly as we are able to.

When your business is saturated and you need to do more than a quick mop-up, call SERVPRO of South Colorado Springs at (719) 574-2789. We can get things back to normal again, in a safe manner that will protect your business and your employees.